Eurostar Apprenticeship Programme - now closed
Thank you for your interest in this Apprenticeship Programme, please read below for more information. 
In the world of train travel, Eurostar has been at the leading edge of innovation since 1994. Pioneers in more ways than one, Eurostar is at the forefront of train travel and has successfully introduced innovative services and engineering capabilities.
Engineering is critical to the business not only to ensure development and maintenance of its entire fleet, but also to allow the business to grow and expand into new markets.
During 2012, significant modification work on two trains allowed Eurostar to become the official carrier of the French and Belgian Paralympic teams, while ensuring they maintained a reliable service during one of the busiest periods London has ever seen.
Following its 20th Birthday in 2014, 2015 saw Eurostar's introduction of the e320 train scheduled to enter commercial service. The e320 represents a major advance for international high-speed rail with the original order of 10 units now in the final stage of completion and refurbishments being completed across their existing fleet.
Eurostar is committed to business growth with a passion and focus on developing staff. As part of their ongoing recruitment and attracting future engineering talent, Eurostar offers a fully supported apprenticeship programme.
Eurostar Jobs
Check back soon for roles with Eurostar!
What We Look For
This programme is now closed. If you would like to speak to us about the TXM Academy Apprenticeship Programme or send us your CV to go on file for future opportunities,  please do not hesitate to call us by telephone at 01908 22 8680 or by emailing applications@txmacademy.co.uk.
What You Can Expect
What can you expect as a Eurostar Engineering Apprentice?
While attending college you will work and learn alongside engineering apprentices from other industries
You will be expected to study, complete course work and consistently achieve high results in exams and assessments
During your training you will be required to complete a comprehensive portfolio of evidence in order to achieve your qualifications
When working on site at the depot you will carry out routine examination, maintenance and repair tasks across the International Fleet.
A bit about the apprenticeship scheme…
Year 1: NVQ Level 2 – Performing Engineering Operations
During your first year you will attend college as a full time or block release student, combined with work based learning at our Engineering Centre. You will learn all of the fundamental principles that will provide a foundation for your career in engineering.
Year 2: NVQ Level 3 – Engineering in the Manufacturing Environment/ Rolling Stock Engineering
You will attend college one day a week, spending four days working alongside the international rolling stock engineers on site at the depot.
Years 3 and 4: HNC in Engineering
In years three and four, apprentices will continue to work four days a week in the engineering depot, spending one day a week at college to complete a HNC in Engineering.
Upon successful completion of the fourth year of the scheme you will become a fully qualified Engineering Team Member and part of the Eurostar family.
View Applicant Video
Please click on a video to hear what our applicants have to say about us and their apprenticeship.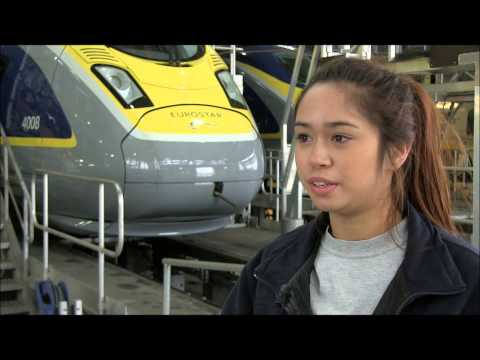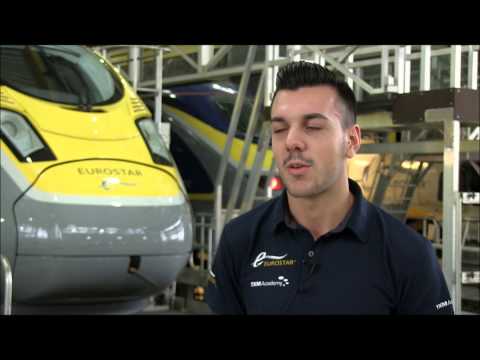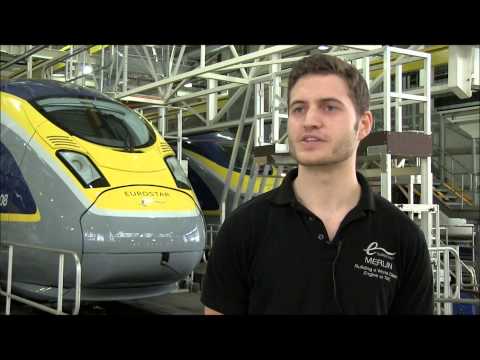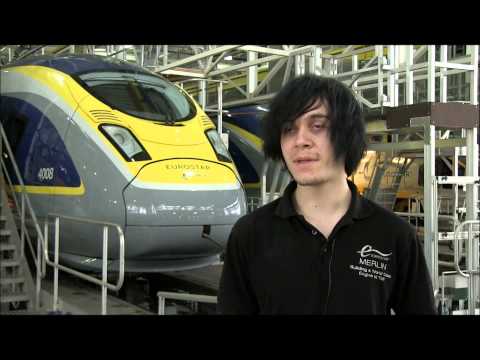 Apply
This Apprenticeship Programme is currently closed. Please check back for further apprenticeship opportunities.
Contact
Your message was sent successfully! We will be in touch as soon as we can.
Something went wrong, try refreshing and submitting the form again.